Skilo was a client I worked with in the very early stages of founding the business. Skilo are a startup at the forefront of empowering people to live independently, safely and happily who set out to create a community with their vision in heart. Skilo's first product is monthly care packages – themed boxes designed to help stimulate, occupy and improve health of their clients. A simple solution delivered to your loved ones door. Every month, Skilo Pak will include a product to ease daily activities, tasty treats and inspiring projects.
Our first workshop involved a group brainstorming workshop designed with a number of constraints to encourage creativity within the group. In the workshop I facilitated several individual and group brainstorming activities, time-boxed to create constraints helping focus and encouraging individual creativity as well as building on ideas. Warm up exercise ignited empathy for Skilo's users helping the group create more aligned ideas. The ideation exercises diverged and converged along key strategic themes identified in Skilo's market research. A theme was also used to focus further targeted idea generation for monthly content. Finally, idea evaluation tools helped us drive decisions.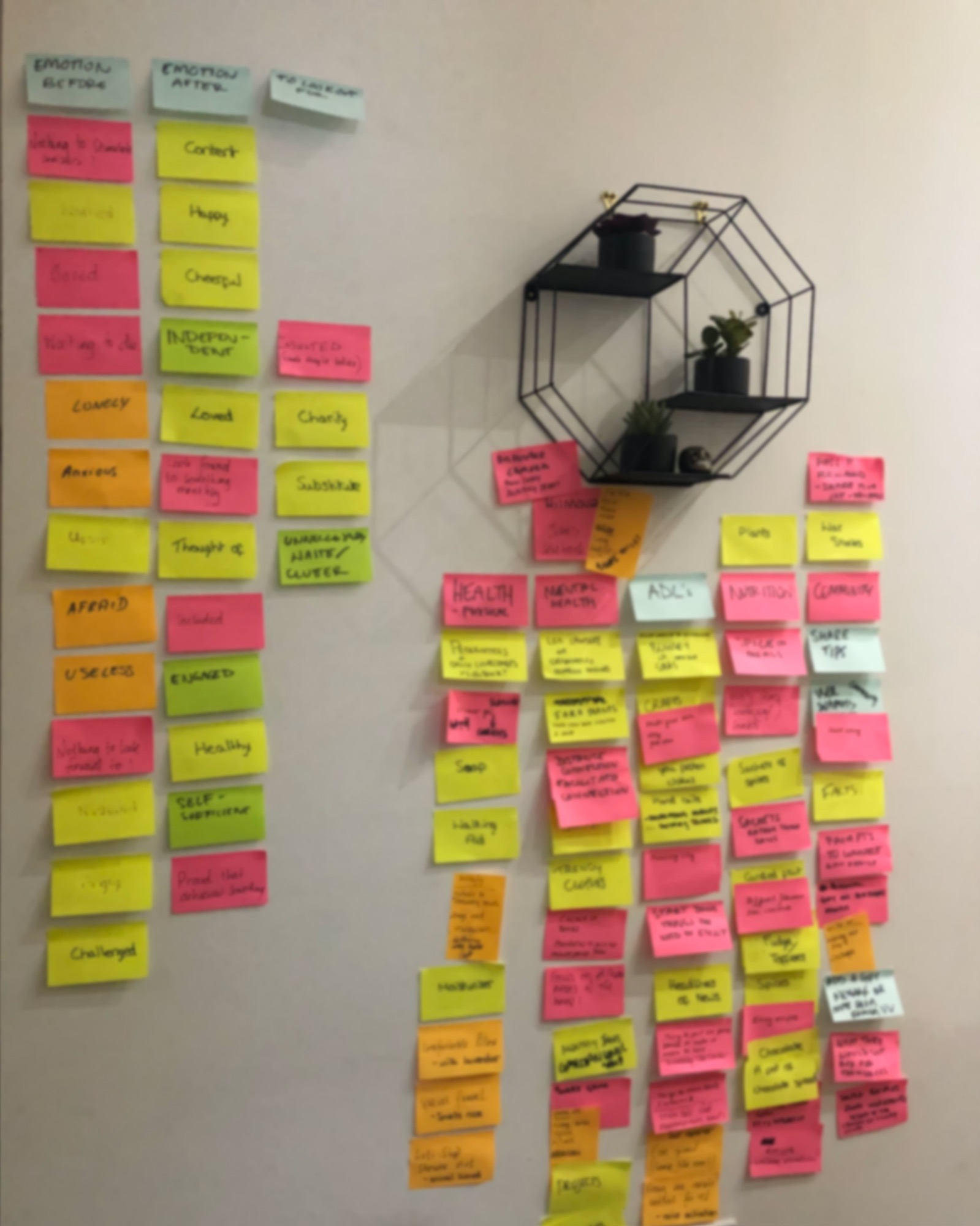 "I find it hard to articulate myself and it really helped that. Doing stuff on your own it's difficult. You don't critique it when you are doing it yourself. […] We can do this for another product in the brand. Understanding people's worries feels and pressures made the solution so much more relevant and real."
The brainstorming sessions helped my client focus on a niche as opposed to a broader market they would have targeted otherwise, and streamline their ideas, making them tangible and cohesive.
The brand and user workshops provided Skilo with actual content to use in marketing communications. But longer term, the client was able to develop a different way of understanding clients and being more open to identifying with them.
Moreover, our sessions gave my client more confidence and clarity in what Skilo are creating. In the short term, this is hugely valuable to create focus and momentum to realise a project. But, having your original mission clearly documented and keeping track of it maintains your long-term focus and can serve as a guiding tool to ensure your are really solving the problem and not designing a product that's not quite relevant.
I did not have many hesitations before this project - I am always interested in seeing things from another perspective and getting other people's opinions on my work. After the workshop I noticed a different way of understanding my users and being more open to identifying with them. The best aspects of the project were defining both of my audiences more and constructing a story of how they interact with the brand from start to finish. I liked being able to question aspects of the brand and understand what is valuable for the customer. Dorota helped by identifying the key areas that would resonate with my user and customer, making me confident I'd get a response from people. I would recommend the experience to larger companies who are losing touch with their brand and their main message. I would also recommend this to someone who has been in the market for a few months and needs to evaluate their progress. Doing this project has been fun and interesting and I can already see how it will benefit the brand. Dorota always listens to everything you say, no matter how silly it might be. She seems to understand the story you are trying to create better than you do!
Empowering people to live independently, safely and happily in their homes.