Holly was a client at the cusp of launching her dried botanical designs business. She's a working mum with a keen aesthetic eye, passion for interior décor, and looking for creative self-expression. Holly loves dried flowers for their beauty, unique scent and permanence. She began experimenting with dried botanical arrangements for her wedding and to decorate her house, frustrated she couldn't quite find what she was looking for. Now, as a working mum looking for creative and entrepreneurial self-expression, she sensed she had a special idea, and it was the right time to create Seed & Thistles. But together with the sense of awe at what this idea could be, she felt doubt and shame around her creative ability, and even more if she could make this into a 'real' business. Together we set out to give her confidence and clarity in what she was creating and the value she can deliver through her beautiful designs.
Resistance encompasses self-critical and judgemental stories we tell ourselves which inhibit us from realising our plans and dreams. In fact, there are many opportunities we are presented with and things that we know we want.But there is a natural gearing in our brains to avoid loss that's 2.5 times stronger than our propensity to seek a reward.It's different for all of us, but often, this something we are afraid of is preventing us from actually starting going to the next level, whatever stage we are at. Becoming more aware and learning tools that help us manage resistance, when challenges naturally crop up, as they do for everyone running their business, is a key element of building creative confidence.
In three sessions we completed a brand consultation, as well as crystallised vision, brand character and value of the offer, and defined touchpoints to support it.
We completed a number of exercises, aimed at extracting, breaking down and re-structuring the idea whilst empathising with the audience to refine the offer, and craft a narrative and service touchpoints which support it. We explored audience's pain points, desires and lifestyle practices to inform the vision for the business and incorporated them in the design of the service. We also analysed the category of dried flower designs, to better understand the subtle differences between the competitors to help us define the Seed and Thistle's brand character pinpoint makes it unique and desirable.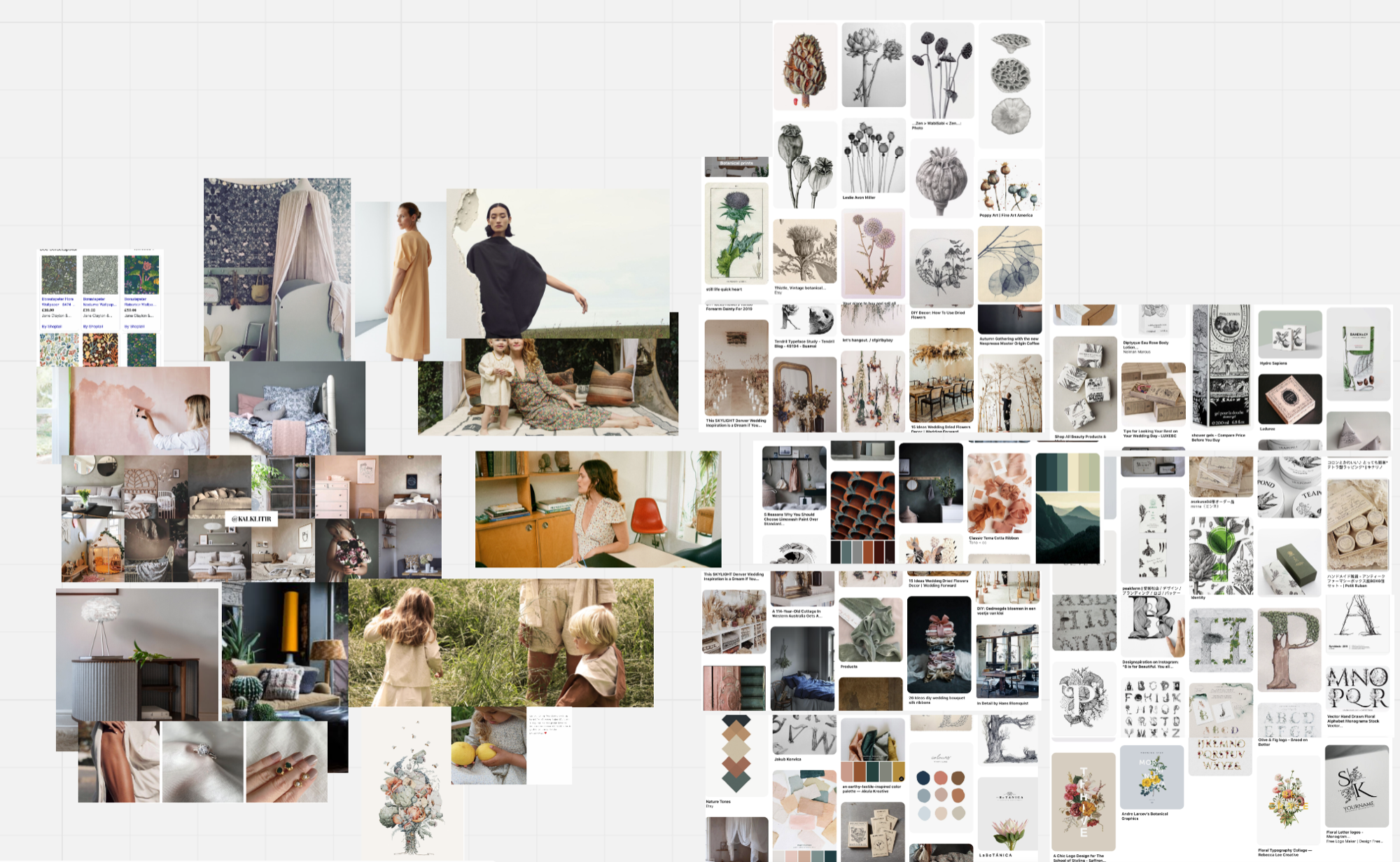 The workshop provided Holly with drive and creative direction for shaping her business, the products she offers and how she wishes to represent Seed & Thistles. Holly worked with an external designer to create the brand logo and and touchpints. Outcomes of our workshops helped her communicate her vision and informed her decisions. Also, the quality of her products improved as she was able to refine the cohesiveness of her brand throughout the existing product range.
Moreover, better understanding of the audience gave Holly confidence and clarity in how to market her products thanks to an in-depth outline of what mattered to her customers most and how to engage them at each stage of interacting with her business. I had a lot of doubt around my creative ability and even more so around whether I could turn this into a 'real' business. After participating in the workshop, I found confidence and self belief in my business idea and the products that I am making. I really enjoyed the aspect of pinning down who my target audience were, and I felt that Dorota really helped to draw out my brand ethos and exactly how I wanted to market my product. It was hard, but became easy to recognise the more tasks that she set. I'd 100% recommend this workshop - at the beginning of this I only had an idea and a few products, following this experience I would now say I have a brand identity and a proper business. Dorota takes you on a journey, from your initial idea she helps you transform this into a real, tangible business. She anticipates your hopes, fears and needs and helps to draw out things about yourself and your business that you won't even aware that you knew.
Dried Botanical Designs by Holly Jane Dore